Introduction
Firm Name
IKEDA SANGYO CO.,LTD.
Founded
Dec.01,1961
Incorporated
May.23,1964
Capital
\58,500,000
Employee
45
Settlement Term
End Of April/Year
Main Bank

Mizuho Bank (Yao Br.)
Bank of Tokyo-Mitsubishi UFJ

Warehouse Space
1.8㎡
Officer

| | |
| --- | --- |
| Chairman | Koetsu Ikeda |
| President | Etsuhiro Ikeda |
| Excutive Director | Yoshihiro Ishida |
| Consultant | kyuki Ikeda |
| Auditor | Kiyoshi Nishizawa |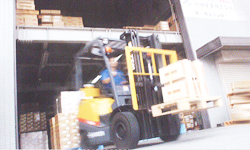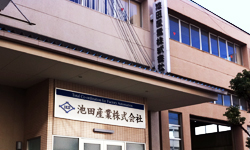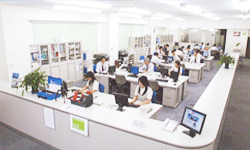 History
Dec.'61
Founded As "Private Company" By K.Ikeda In Andoji, Minami-ku, Osaka.
May.'64
Establish As "IKEDA SANGYO CO.,LTD." Head Office In Kayafuri, Yao-Shi, Osaka.
Starting Capital Was \500,000.
May.'67
Capital Was Increased To \2,000,000.
Jun.'67
Head Office Was Moved To Suehiro-Cho, Yao-Shi, Osaka, For Reconstruction.
Nov.'68
Opened "kyoto Sales Office" In Nishinosyo, Minami-ku, Kissyoin, Kyoto.
May.'70
Capital Was Increased To \5,000,000.
Aug.'70
Delivery Center Was Completed.
Jul.'73
Opened "Osaka Branch" At Present Address.
Mar.'75
Capital Was Increased To ¥10,000,000.
Jul.'75
Built Recreation Center For Employees.
Nov.'75
Opened "Sanin Sales Office" In Haze,Fukuchiyama-Shi,Kyoto.
Oct.'79
"Kyoto Sales Office"Was Moved to Present Address. Re-Organized As "Kyoto Branch".
Feb.'82
Head Office & Yao Sales Office Was Moved To Present Address.
Dec.'93
"Trading Division" Was Settled At Head Office.
Nov.'94
Capital Was Increased To \26,000,000.
Jan.'99
Capital Was Increased To \39,000,000.
Feb.2000
Opened "Shiga Branch" In Chuzu-Cho, Ayame, Yasu-Gun, Shiga.
Dec.2003
Capital Was Increased To \58,500,000.
Nov.2004
Kyoto Branch And Shiga Branch Was Re-Organized As "Keiji Branch" And Moved To Newly-Built Office In Takeda Mitsukui-cho, Fushimi-ku, Kyoto.
Oct.2007
Headquarters renovation.
Mar.2010
Stretching machine parts sales Project Team established.
Jul.2010
Launch of the Web Ordering System (i-ssist).
Apr.2011
Transfer Product Center to 3-1-32 Honjonishi Higashi-Osaka-Shi.
Address
[Head Office]
31-2-2 Honjo Nishi, Higashi-Osaka-Shi, Osaka, 578-0965, Japan.
TEL81-6-6743-3332 FAX81-6-6747-7248
[Keiji Branch]
28-8 Takeda Mitsukui-Cho,Fushimi-Ku,Kyoto 612-8413,Japan.
[Fukuchiyama Sales Office]
2-77 Miya-Machi,Haze, Fukuchiyama-Shi,Kyoto 620-0856,Japan.